Save seals. Our parents, grandparents and great-grandparents did it. And, maybe you do it yourself as well. At Douwe Egberts they call it reward points. And 'value' is what it's all about. Added value. For the producer the loyalty of customers has value, for the consumer the reward has value. And, no matter how simple the idea is, it works. For more than a hundred years. And now there is blockchain technology. But what relationship does loyalty have with blockchain technology?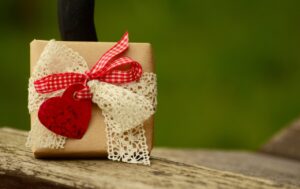 The need for involvement and appreciation has grown exponentially in recent years. Many companies have developed their own loyalty programmes. They reward employees or customers for their desired behaviour. Not with money, but with gifts. And, the good news, with the advent of blockchain technology, we can now add even more value to this reward system. Flexibility, transparency and simple, unchangeable registration make the blockchain interesting for an interactive controlled way of rewarding. One that suits our present times.
With blockchain technology, we have the ability to transfer value in a transparent, fair and automated way so that the reliability of the data is never questioned. It is about value transfer through the Internet. Undeniably, the mobile phone has become increasingly important in this respect. In combination with blockchain technology, this device is ideally suited for transferring value. And that's exactly what a loyalty program is all about!
An example. An organization wants a flexible system to reward employees and customers for various, often more difficult to qualify activities. Matters that fall outside the scope of the regular employment agreements and the associated remuneration. For example, an employee can make an effort (perhaps even in his own time) to organize a Christmas gala. Or use his or her social media to help the company find new employees. And the organization may want to compensate the customer for a service that has been paid for but not (completely) purchased. Together with the organisation, we will then make a Loyalty Process Roadmap within a few months. In this we record the agreements on which all parties (organisation, employee, customer) have consensus and we record them in code, in the blockchain. Unchangeable.
Why a blockchain? Transparency, verifiability and immutability are guaranteed in a blockchain. You do not want any discussion about the accuracy of the data and its value. However, you do want an easy system that allows you to assign and use value. We are able to move value quickly (with phone or desktop) through the blockchain. In this way, everyone knows exactly where he or she stands.
In practice in this example we use a dApp (App but then in the blockchain) on which there is a wallet where all saved points are visible. In real life the points are in the blockchain and through the internet we actually get our balance. When a reward is required, the organization is able to quickly send the value to the employee or customer in question. This is a transparent process. Clear and traceable. Also useful in cooperation with, for example, a tax administration.
And, with the credit you have built up, you can get started right away. Sometimes in the organisation's 'own shop', but increasingly also outside it. Interoperability will increase rapidly, allowing you to exchange Douwe Egbert reward points for — whatever you want!
Contact us for more information.